HOURS
Monday: 10am – 5pm
Tuesday: 10am – 5pm
Wednesday: 10am – 5pm
Thursday: 10am – 5pm
Friday: 10am – 5pm
Saturday: Closed
Sunday: Closed
CLOCK SERVICE & REPAIR
WALL-MANTLE-CUCKOO-QUARTZ
MODERN-ANTIQUE
TEAR DOWN, PACKAGING AND SETUPS
GRANDFATHER CLOCK SPECIALISTS FOR EVANSVILLE-VINCENNES-TERRE HAUTE
"HOUSECALLS ON GRANDFATHER"
Expert clock service & repair includes but not limited to:
Each movement disassembled
All parts and plates cleaned in "state of the art" Ultra-Sonic Cleaner
All pivots are polished
Each movement is rebushed
Mainsprings evaluated and replaced as needed
All overhaul of movements are warrantied
Tear down, packaging and setups on Grandfather Clocks

PIANO TUNING & REPAIR
UPRIGHT-SPINET-STUDIO-CONSOLE-GRAND


Felix Mendelssohn – Songs Without Words- short    F Chopin – Nocturne no1
Piano Tuning and Repair Services Include:
Expert Piano Tuning A=440
Repair of sticking keys, string replacement, and all other issues (e.g. felts, springs, bridletapes, flanges, center pins) that require repair during the tuning.

If you are looking for professional Grandfather Clock Service & Repair or Piano Tuning & Repair, contact Joe McMullen today to schedule an in-home appointment today.

Our office is centrally located between Evansville and Terre Haute at 830 North 7th St., Vincennes Indiana.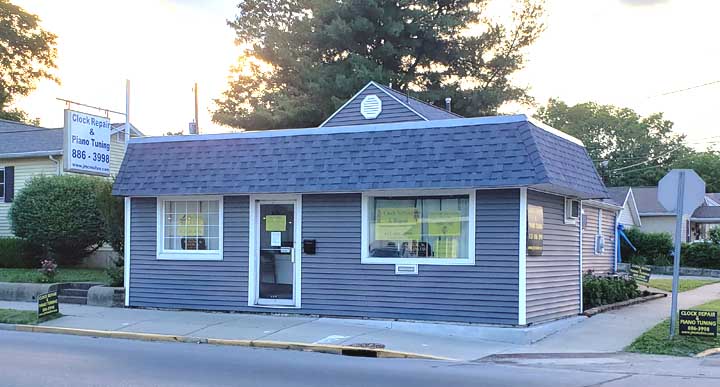 Service Areas covered:
Indiana Counties included
Illinois Counties included
Daviess County
Gibson County
Vanderburgh County
Greene County
Posey County
Knox County
Martin County
Vigo County
Parke County
Clay County
Pike County
Sullivan County
Vermillion County
Clay County
Crawford County
Edwards County
Jasper County
Clark County
Lawrence County
Richland County
Wabash County
Edgar County
Wayne County
White County
We also service Henderson County in Kentucky.
*Other Counties available by appointment only.